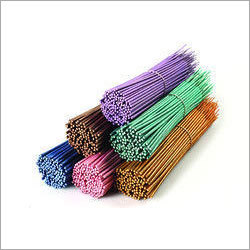 Metallic Color Raw Agarbatti
Product Code : 19
Product Specifications
Color

:

Multicolored
Stick Material

:

Bamboo
Size

:

8″ & 9″
Product Description
Nishan Products are the well known manufacturers and exporters of optimum quality Metallic Color Raw Agarbatti. We are engaged to give our customers a great nature of Agarbatti that is comprehensively used to make diverse sorts and distinctive Color of incense sticks. The assortment provided by us is manufactured by utilizing optimum quality raw material like natural herbs, fresh flowers for fragrance and non toxic colors that are blend together with the help of innovative techniques and apparatus. To ensure the quality of these Metallic Color Raw Agarbatti our team of dexterous professionals test and verify them on various parameters to meet clients end.

Features:

Cost effective
Tamper free packing
Reliable and durable
Moisture resistance
We are also offering Raw Agarbattis, which are made with using some of the finest raw materials like charcoal, advanced quality bamboo sticks, fragrant flowers etc. Embedded with adhesive strength the products come with no breakage of masala in the core stick. These come in uniform strength, size and look. Embedded with supreme burning consistency, length consistency and adequate thickness the products have long lasting burning. The fragrance of these products have healing power that make a cozy effect on the mind. The calming effect these Raw Agarbattis have luxuriate the mind and aids in performing customs with full dedication and concentration.
Advantages:
Have spiritual importance, act as the medicinal and curative tool that relax the mind, free of chemicals and other toxic matters.
Fill the atmosphere with a pleasant smell, the appeasing effect these have refresh the body and soul.
Made with fresh, clean and nose-friendly essential oils, give out a subtle aroma, perfect burning uniformity.
Maintain an ever lasting aroma marked, appropriate for all places and surroundings, which need a soothing fragrance.